Authorities in Va. debate how to treat addictions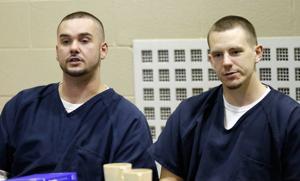 Timothy Starr asked a Chesterfield County judge to send him to jail for 90 days. He could've been out in 10 days for driving with a suspended license, but Starr thought a extra few months behind bars might save his life.
Starr, 27, first used heroin as a teenager in jail. Now he's among about 30 inmates in Chesterfield who attend daily counseling sessions as part of a program meant to help them kick their addictions.
Starr and fellow inmate Brian Coddington agree on what leads them to accept the jailhouse counseling: It comes from a former addict, and it doesn't involve more drugs.
"If an instructor or someone that had a college degree in therapy came in, I don't think the program would be what it is," Starr said.
"I don't care what they say; Suboxone or methadone is still a crutch. You don't get that blasted high feeling, but it's still hitting your brain."
Their attitudes mirror a larger debate taking place across Virginia, where heroin and prescription painkillers have killed at least 5,500 people since 2007.
With the state overwhelmed by the years-long surge in painkiller and heroin overdoses, local law enforcement leaders are creating programs to treat people's addiction instead of punishing them for it.
But more often than not, those local programs enroll the help of abstinence-based organizations such as The McShin Foundation, whose philosophy puts them at odds with the state.
The state prefers — and pays for — medication-assisted treatment that calls for opiate-based replacement drugs alongside counseling. The programs on which local leaders depend for help aren't likely to see any of the additional $11 million in the state budget for addiction, because it will be used to try to expand the availability of the state's preferred plan.
Bill Hazel, Virginia's secretary of health and human resources, said counseling alongside medication is shown by scientific evidence to be the gold standard for helping recovering addicts.
Hazel said some local agencies may be turning to abstinence treatment because it's all that's readily available in Virginia. The additional $11 million is intended to help build up that network of doctors and counselors.
"If I can't fly first class, I might fly coach. But I'd really like to have the option to do both," Hazel said.
"I do not want to be disparaging of peer-assisted recovery, because it certainly works for some people. What we don't know is how many people drop out and fail, and we don't know what the long-term results are.
"This might be a discrepancy between what's being studied, but we don't necessarily want to be funding the 'I don't know.'"
Hazel said he hopes that leaders across the recovery spectrum can work together with the state to find a way to combine their approaches to battling addiction.
But the idea
of using drugs to heal drug addiction is tough to reconcile with a philosophy of abstinence that goes back decades with 12-step models for drug and alcohol abuse.
John Shinholser, founder of the Henrico County-based McShin Foundation, filed a federal discrimination complaint this year against the state Department of Behavioral Health and Developmental Services.
The complaint accuses the state of excluding McShin from participating in groups that create the standards for treating substance abuse and freezing out the organization from state funding.
"It all goes back to bureaucracies. You've got all these leaders from all these agencies that know better. In the meantime, nothing's happening, the epidemic's out of control," Shinholser said.
"You are doing the single worst thing you can do to an addict and that's spit them back out in the community when they are there asking for help."
Two main drugs are used to treat addiction to opiates, whether painkillers or heroin.
Methadone has been used for decades to help addicts avoid taking other opiates while preventing the debilitating withdrawal that comes with stopping cold turkey.
Buprenorphine was approved in 2002 for the same purpose. Most often, it's sold as Suboxone, which includes the antidote drug naloxone as a countermeasure to prevent overdose. Teresa McBean, leader of a faith-based recovery organization in Chesterfield called Northstar Community, said the idea of taking drugs to beat drug addiction is at odds with the abstinence-based approach. The disagreement is so basic that there seems to be little ground for compromise. McBean said the epidemic is so big that no approach should be written off immediately. She compared her preferred method of trying everything to "throwing spaghetti against the wall and seeing what sticks.
But there's a deep resentment among abstinence-only groups toward any treatment that uses other drugs, she said. "You get on methadone and you stay on methadone for a long time," McBean said. "What some people would say is, 'That's the government response to making sure grandma's flat-screen TV doesn't get stolen — trying to address the problem of the crime associated with opiate epidemic without caring about the recovery of the individual."
Attorney General Mark R. Herring has been a leading state advocate for addressing the painkiller and heroin epidemic, which now kills more people in Virginia than car crashes. He said both sides have merit in the treatment debate.
"I think we need more options all across the commonwealth in all of these areas," Herring said.
"Certainly, you want to make sure when tax dollars are being invested, you want to be sure there is evidence to show it is effective and working. I think a lot of these groups, McShin and others, are demonstrating that they have a track record of success."
Further complicating
the debate is the sad reality that most people addicted to opiates will relapse no matter what form of treatment they receive.
Peer recovery organizations often have a makeshift memorial wall for those who came seeking help but eventually lost their lives to addiction.
And the therapy drugs don't come without risk.
Since 2007, methadone has been linked to 1,120 overdose deaths in Virginia, or slightly more than cocaine. But while cocaine-related deaths continue to increase, the number of deaths from methadone continues to drop year over year, falling below 100 in 2015 for the first time since 2007.
Buprenorphine overdoses have been more rare. But they accounted for 10 deaths in Virginia in each of the past two years. And a national study found a 10-fold increase in emergency room visits related to buprenorphine from 2005 to 2010 as the drug became more available.
First approved for use in the U.S. in 2002, buprenorphine use in Virginia spiked more than 5,500 percent from 2004 to 2014, according to figures from the Drug Enforcement Administration. In the same time frame, methadone use in the state grew about 40 percent.
McShin, like many peer recovery organizations, follows up with those who graduated from the program every year and reports that about 60 percent manage their illness well, even if some of them suffer an occasional relapse.
Those phone calls don't pass as evidence in scientific studies, which say it's nearly impossible to measure the effectiveness of abstinence-based peer recovery programs.
Multiple reports, including from the National Institutes of Health and the Institute of Medicine, have concluded that using methadone or buprenorphine as part of addiction treatment keeps patients in treatment and off other opiates longer than abstinence.
Chuck Adcock is director of Family Counseling Center for Recovery, which treats addicts at its offices in Richmond, Chester and Fredericksburg using a mixture of abstinence, counseling and drug-replacement services for patients.
Adcock said methadone and Suboxone work well for certain patients, but it's nearly impossible to determine which ones will benefit before they are given the drug. One of his patients on methadone recently graduated from law school.
"For some people, it's a godsend. The reality for most people who are drug-addicted is they can no more handle a prescription for Suboxone than they could have handled their prescription for oxycodone," the most deadly prescription painkiller since the epidemic began, Adcock said.
"It's hard to get folks off of either drug. It's like we've given up on the idea of abstinence and detox as soon as possible for these people. It's really being marketed as the answer."
Coddington, the
inmate in recovery in Chesterfield, said he injected Suboxone once, but the feeling was so uncomfortable that he never tried it again.
He's been enrolled at both a methadone clinic and at McShin. But he kept using heroin the entire time, because he thought he was clever enough to beat the system.
Chesterfield Sheriff Karl Leonard decided this year to use existing funds in the department's budget to form an addiction recovery program, with Coddington one of the first enrolled.
Leonard also has a new form of home arrest program with The Healing Place that allows some inmates to wear an ankle bracelet while living and receiving treatment there.
"I get about five addicts a day at my jail. We're good at getting you withdrawn, but I'm just sending you out of jail as a sober addict," Leonard said.
"My philosophy is, we want to break all addiction and dependency on all drugs and alcohol. This is one perpetual cycle that either ends up with you being in prison for the rest of your life, or dead, and neither of those options are things we're OK with."
The Chesterfield jail has a doctor who is working to get a license to prescribe Suboxone, but Leonard said that will be used only to help reduce the intensity of the withdrawal symptoms that addicts experience when they first stop using.
"What we're not in favor of is transplanting one addiction for another addiction," he said.
The Richmond Police Department is working to start helping addicts before they end up in jail with a program that soon will offer same-day treatment referrals to all overdose survivors.
Eventually, any addict will be able to bring his drugs and equipment into the city police department and ask for immediate help with no fear of being arrested.
Richmond police Capt. Michael Zohab, who is leading the efforts, said it's time to admit the war on drugs was lost and try to salvage lives in the best way possible.
Zohab was initially surprised at the intensity of the debate around how to treat addicts.
"I had no idea there were so many varied opinions on the topic," he said. "What I've learned is, recovery is not a one-fit fix for everybody. What's going to work for me may not work for you.
"We like the fact that certain recovery programs are more holistic in the counseling, in the healing of the individual, to eventually not need an addictive substance to maintain their daily existence. ... But again, there's no magic program."
jramsey@timesdispatch.com
(804) 649-6911
kevans@timesdispatch.com
(804) 649-6922